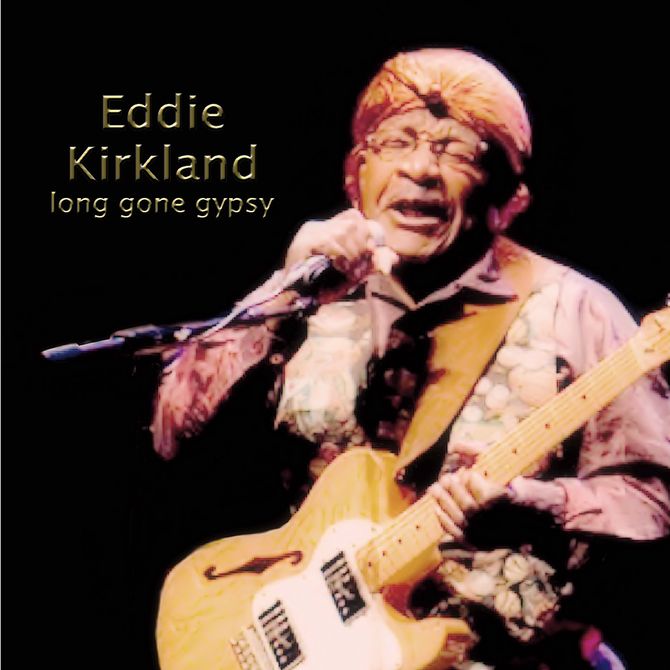 Eddie Kirkland, one of the original Blues men still bringing himself and the Blues direct to the people. Kirkland, who was born in Jamaica, raised in Alabama from the time he was two till he went off with the Sugar Girls Medicine show at twelve. His teens brought him to Indiana, eventually settling in Detroit. There he polished his Blues to recording status. He toured and recorded with John Lee Hooker for seven and a half years. They made a solid team before parting in the 60's.
Kirkland moved to Georgia, where he was bandleader for Otis Redding. Continuous road tours had him working with Ruth Brown, Little Richard, Ben King, Little Johnnie Taylor and many more greats. In 1962, Kirkland recorded "It's the Blues Man" for Prestige, reissued by Fantasy as a Blues collector's item. Kirkland's hit the "Hawg" recorded by Stax/Volt label earned him national celebrity. The "Hawg" is now available on Atlantic records.
In the early 70's employment for Blues men was hard to come by, but faithful individuals such as Peter Lowry sought out Kirkland and is credited for bringing him back into the circuit. With Lowry and his Trix label, Kirkland recorded "Front and Center" and "The Devil and Other Blues Demons", now available from 32 Blues. At this time Kirkland spent twelve years in the Hudson Valley. There he reinvented his sound, giving his Blues that unrelenting dance beat that has named him the "Energy Man". It is during this time that Kirkland appeared at the Ann Arbor Blues Festival, and toured extensively, introducing the Blues to remote areas in Wyoming, Montana, Maine, Turkey, and Greece.
1980 brought a recording by JSP, "Pick up the Pieces", by which Fantastic Records issued the single by the same name. 1983 gave Kirkland a Pulsar recording, "Have Mercy", that has been reissued on Evidence. A meeting at Lincoln Plaza in Massachusetts with Randy Labbe began an association that would produce three albums and many touring dates. "All around the World", on which Hooker appears. "Some Like it Raw", a live performance, and "Where you get your Sugar?"
Kirkland's recording career is difficult to follow, many companies have recorded him and sold his recordings, but his records refuse to be shelved, waiting for the times to catch up to a sound that has never set still. A sound that is like himself, strong, ever creative, sincere, and always living the Blues, demanding to be heard. 
We believe that "Long Gone Gypsy" is Eddie's Last studio album. It was recorded in Macon Georgia and featured an all-star line up of musicians including Billy Rivers-Drums, Goose Goodrich-Bass, Tony Cooper-Piano, Wayne Pierce-Organ, Charles Reynolds-Guitar, Barry Darnell-Guitar, Tom Harling-Trumpet, Elbert Durham-Sax, and Newton Collier-Horns.
Done Somebody Wrong video
Long Gone Gypsy
Eddie Kirkland
0:00/1:55

0:00/3:14

0:00/4:53